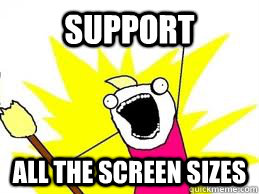 I'm designing the algorithm for tablet-optimising my app right now! It's not easy for a novice like myself. The basic idea is that the app will show you as many days as it can, arranging them horizontally - if you have enough room for 3 days, it displays 3 days. How it will do this is quite simple - I've figured out the magic number, the minimum possible amount of space a day can take up. I have set it as 270dp for now (dp is the density-independent pixel Android uses for super-awesome scaling functionality). The amount of days a screen can fit is calculated thus:
days = floor(screen width / 270)
But if I did this, the app would look terrible! Each day being 270dp means that a day only takes up about three quarters of my Desire's screen. So it readjusts the width of a day so it fits the screen:
width of day = screen width / amount of days
Each day is constructed as before and its width designated to it, then it is attached to its fragment as normal.
Here is the hard part. It works with tabs, as it always has. But with this system, multiple tabs can be open at once. How do you switch tabs? I'll have to design a way to do it, which will be difficult, and then I'll have to write it, which will be even harder. I'll get there, though, eventually. With luck.
If anyone knows how to help, I would really appreciate it. :)